Information
| | | | | |
| --- | --- | --- | --- | --- |
| &nbsp | &nbsp | &nbsp | &nbsp | &nbsp |
About the Company
The original concept for Ecosystems by Design was to keep fish healthy while the owner went on holidays. The system was thus designed to be near maintenance free. The only requirements are that water levels be maintained and that some organic waste be added into the composter to ensure proper fiber content and increase biomass. The whole system is designed to operate best with minimum interference by its owner.
The concept worked well and proved very popular. Thus the company was registered in 1992 and has provided many units to homes, schools, offices, zoos and interpretive centers.
Research is ongoing to use these principles to decompose animal waste and to establish larger systems as platforms for fish farming.
About Our Ecosystems
Your Ecosystem will quickly become the centerpiece of any office, school, or home, and will entertain and educate all that view it. This is not a static system; it will grow and change continuously. Every time you look at it you will be provided with new and exciting surprises. This system is not just a container for fish, but a whole natural environment for life to flourish, starting from protozoa to high end consumers such as fish, frogs, crayfish, newts, etc. Because the system works best with minimum interference from its owners it is by definition low maintenance and will operate without attention for extended periods of time.
We provide customers with a complete working system including: tank, lights, pumps, stands, gravel, pail, hose, plunger, instructions, as well as worms, plankton, snails, algae, bacteria and biomass. You need only worry about deciding what flora and fauna you wish to thrive in your unique growing environment. This is a complete system where your choices of inhabitants are not only based on appearance but also on what part they play in the food chain. We will supervise your system formation and will guide you to quickly establish a growing, working ecosystem.
The principle is a flow-through system where the source of food is maintained and produced by controlling the flow of oxygenated water. The system works by converting fish and higher invertebrates' detritus into plant material, converting the plant material into lower life such as monerans, protists, fungi and lower invertebrates, and then transporting these to the fish to repeat the cycle. The system must be provided with dechlorinated water and energy whether it be by natural sunlight or artificial energy in the form of light bulbs.
The system consists of three components: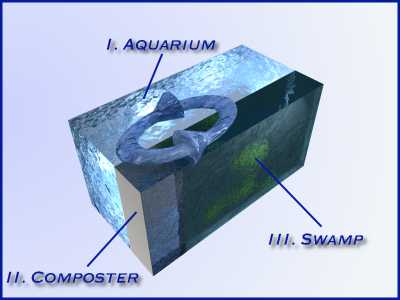 I. The Aquarium
This is the main storage basin and heat sink. It is the main producer of detritus. It is a plant and food provider and also helps maintain the chemical equilibrium. This is where new water is added and thus any imbalances are spread through a large body of water prior to being purified. It provides the room for larger or more advanced members of the food chain to thrive.
II. The Composter
This is where the water is pumped and the system is kept active and regulated. Decomposing plant material and fish detritus, both of which come from the aquarium, are converted to animal and fish food.
III. The Swamp:
The swamp is the key to the whole operation. It is used as:
An Algae Scrub to clean any chemical imbalances, diseases, bacteria or overpopulations.
A Source of Oxygen where the microscopic algae or phytoplankton absorb the carbon dioxide from other components and convert it to oxygen.
A Source of Food where most of the invertebrate population lives and breeds. It is our main supplier of fish food.
Ecosystems can be configured in one of three ways:
Maintenance Free: In this configuration your only concerns are deciding which fish to introduce. This configuration consists of a $56.00 per month service contract (plus travel costs). We will monitor, feed, and clean the system as required.
Low Maintenance: In this configuration you only need to change 4 gallons of water every two weeks, or hook your tank up to the plumbing system and supply the system with nutrients.
Composter: In this version the system is developed to decompose vegetable waste. It becomes an indoor composter.
Composters
Your Ecosystem Functions as an Indoor Composter!
Compost vegetable waste indoors.
Grow fish and invertebrates.
Produce fertilizer for your plants.
Enjoy a lush, living indoor marsh.
Revel in your self contained ecosystem!
Our systems come with a built in composter. The composter can remain unused if you choose to feed your fish. However it is suggested you use the composter if you are planning extended periods of time with no feeding. The composter can be conditioned to accept various amounts of organic waste depending on your needs. It will compost waste for a family and produce fish, plants and gentle organic fertilized water for your house plants or garden.
Inhabitants
If your aquarium struggles to support 1" of fish per gallon, has cloudy water, dirty glass, requires high maintenance, scraping, cleaning, and daily feeding, please read on.
Ecosystems not only support 3" or more of fish per gallon, but also all the other animals on the following list and more. These animals are not only supported , but in some instances necessary as part of the food chain. This food chain makes this heavily populated system near maintenance free. The only requirements are small changes of water and addition of organic waste from time to time. No feeding...The system grows its own food!
As an added benefit, once the biomass is established in the animal populations, the gravel bed, the composter, the plants and the fish, you can leave the system unattended for several months (ie. Vacations).
If you have long dreamed of bringing the lake or stream home into your living room, office, or school, let Ecosystems by Design show you how to grow your own unique natural environment.
Animals:
Over 3" of fish per gallon
Crabs
Frogs
Newts
Snails
Shrimp
Mussels & Clams
Crayfish & Freshwater Lobsters
Sponges, Green & Brown Hydra
Populations of Daphnia
Populations of Copepods
Populations of Worms (Tubifex, Red Wrigglers, Meal) etc.
Populations of Leaches & White Worms
Populations of Crickets & Beatles
Populations of Gammarus
As Many Plants as introduced (Water, Terrarium, and Marginal)
Geckos, Anoles, and other Reptiles
Many More! All living, breeding, and maturing as one system.
Order Information
All prices are quoted in CDN (Canadian) funds. (see Bank of Canada for current exchange rates)
Shipping costs are the responsibility of the customer.
We would be pleased to quote you on shipping costs.
Permits or special licenses are the responsibility of the customer.
All duties or taxes are the responsibility of the customer.
All prices are quoted FOB Winnipeg, Manitoba, Canada.
Payment arrangements to be made on an individual basis.
We accept Cash, Cheque, Visa, Mastercard and Debit payments